SPNHC 2022 Data Help Desk
From iDigBio
About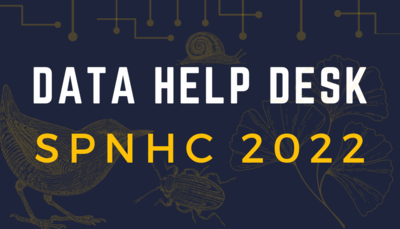 For most collections professionals, a (relatively) new reality of the job is that they must manage data about specimens as well as the specimens themselves. The SPNHC 2022 Data Help Desk will provide conference attendees with an opportunity to stop by our booth and ask data-related questions in an informal and personal setting. Our local presence at the conference is paired with a concurrent virtual Data Help Desk. Our team will be happy to discuss any data-related questions or issues you may have, such as:
What database / content / collections management systems (CMS) are available?
How do I get my data into and out of a CMS?
How do I share my data with biodiversity data aggregators, like GBIF and iDigBio?
How do I clean my data? Why do I need to clean my data?
What is Darwin Core, and how do I make my data Darwin Core compliant?
How can I utilize identifiers to enhance my data?
SPNHC 2022 Data Help Desk Partners
Organization
About
People representing
Arctos
Arctos is a community of museums and organizations that collaborate in the development of an online collection management information system that we consider to be fundamental research infrastructure intended for curators, collection managers, investigators, educators, and anyone interested in natural and cultural history.
Teresa J. Mayfield-Meyer
Biodiversity Data Standards (TDWG)
Biodiversity Information Standards (TDWG) is a not-for-profit, scientific and educational association formed to establish international collaboration among the creators, managers and users of biodiversity information and to promote the wider and more effective dissemination and sharing of knowledge about the world's heritage of biological organisms. To achieve its goals, TDWG develops, ratifies and promotes standards and guidelines for the recording and exchange of data about organisms and acts as a forum for discussing all aspects of biodiversity information management through meetings, task and interest groups, online discussions, and publications.
Deborah Paul
Botanical Research Institute of Texas
The Fort Worth Botanic Garden and Botanical Research Institute of Texas have merged, becoming a stronger, more comprehensive botanical organization. We explore the critically important world of plants, collaborate to discover the role they play in our cultural and natural environments, and engage people to conserve nature and improve the human experience.
Jason Best
DiSSCo Prepare
The Distributed System of Scientific Collections (DiSSCo) is a new Research Infrastructure (RI) for Natural Science Collections that aims to create one digitally unified European collection and ensures that all the data is easily Findable, Accessible, Interoperable and Reusable (FAIR principles). DiSSCo represents the largest ever formal agreement between natural history museums, botanic gardens and collection-holding universities in the world. DiSSCo Prepare is the preparatory phase through which DiSSCo will reach the overall readiness necessary for its construction and eventual operation.
Sabine von Mering, Julia Pim Reis
iDigBio
iDigBio is the central coordinating unit for the United States' national effort to digitize natural history collections, including biological and paleontological specimens. iDigBio is a collaborative project based at the University of Florida, Florida State University, and Arizona State University that has been continuously funded by the U.S. National Science Foundation (NSF) since 2011. iDigBio's primary goal is to catalyze excellence in digitization, mobilization, and usage of data about the biodiversity specimens curated in U.S. biodiversity collections for research and education.
Erica Krimmel, Lauren Cohen, Cat Chapman (virtually)
Species File Group
The Species (life on Earth) File (software) Group (collaborating community) builds tools that facilitate cataloging, description, and study of the Earth's species. We specialize in workbenches for biodiversity scientists and indexing all the Earth's species, our group also produces a wide range of open-source libraries and utilities. Examples of work we lead and contribute to include the Catalogue of Life, Global Names Architecture, and TaxonWorks.
Deborah Paul
Specify Collections Consortium
The mission of the Specify Collections Consortium is to advance research and applied uses of the information associated with specimens and samples held in biological and earth science collections. With engagement and collaboration from its member institutions, the Consortium does this by engineering innovative, open-source software, and by offering training and services to members for the digitization, integration, and curation of collections data. By collaboratively creating and supporting robust platforms and tools, the Consortium advances the mobilization and engagement of collections data in broader research and computing initiatives for the benefit of its members, science, and society.
Andy Bentley (virtually)
Symbiota Support Hub
Symbiota is an open-source software for managing and mobilizing biodiversity data that supports a distributed network of 40+ theme-based research portals incorporating data from over 1,400 biodiversity collections. The Symbiota Support Hub (SSH) provides comprehensive services for active and developing biodiversity data portals powered by the Symbiota software platform.
Katie Pearson, Laura Prado (virtually)
TaxonWorks
TaxonWorks (TW) is a web-based platform, a workbench, serving taxonomists, biodiversity scientists, natural history collections and more. It allows you to capture, organize, and enrich your taxonomic, nomenclature, collections, and bibliographic source data; share it with collaborators; and package it for analysis and publication. The software has been in production for over 5 years and is very actively updated by a core team of 5 with numerous other community and internal contributions. Anyone in the world can and is encouraged to contribute to the open-source code base, https://github.com/SpeciesFileGroup/taxonworks. Talk with us and the TW community on gitter (https://gitter.im/SpeciesFileGroup/taxonworks).
Deborah Paul
How to participate
1. Stop by our booth at SPNHC 2022 in Edinburgh and ask a question! See the schedule of activities below.
2. Ask a question asynchronously via this shared Google doc. This will be live for the duration of the conference (June 5th - 10th 2022), and subsequently archived via this wiki page.
3. Ask a question asynchronously via the #data-help-desk channel in the SPNHC Slack workspace. Join the SPNHC Slack here if you haven't already!
Schedule of activities
Please see the website for a full conference program. The table below highlights activities being organized as part of the Data Help Desk, which will take place in the conference exhibitor hall at a booth sponsored by iDigBio.
Monday, June 6th - McEwan Hall
Time
Program
Data Help Desk Activity
10:30 - 11:00
Break
Booth staffed with data help desk partners
13:00 - 14:30
Lunch
Booth staffed with data help desk partners
16:00 - 16:30
Break
Booth staffed with data help desk partners
Tuesday, June 7th - McEwan Hall
Time
Program
Data Help Desk Activity
09:00 - 09:30
Pre-session
Booth staffed with data help desk partners
11:00 - 11:30
Break
Booth staffed with data help desk partners
13:00 - 14:00
Lunch
Booth staffed with data help desk partners
15:30 - 16:00
Break
Booth staffed with data help desk partners
Wednesday, June 7th - McEwan Hall
Time
Program
Data Help Desk Activity
09:00 - 09:30
Pre-session
Booth staffed with data help desk partners
11:00 - 11:30
Break
Booth staffed with data help desk partners
13:00 - 14:00
Lunch
Booth staffed with data help desk partners
15:30 - 16:00
Break
Booth staffed with data help desk partners
Resources
The lists of resources below will expand based on the questions we receive from you over the course of this Data Help Desk!
Learning data skills
Planning for data management
Tools for data management
Databases / Collections Management Systems (CMS), on the iDigBio wiki **note that many of these have representatives helping with the Data Help Desk! See who in the "Partners" table above, and come ask questions at our booth**
Software Resources, on the SPNHC wiki **This page is a work in progress! Want to help us populate it? Come to the "Capturing community expertise: A SPNHC wiki edit-a-thon" workshop at SPNHC on Thursday from 13:30-17:00.**
Accessing and using digital biodiversity data